AGS, HELPT U UW INTERNATIONALE CARRIÈREDOELEN TE BEREIKEN
AGS, een familiebedrijf dat gespecialiseerd is in de mobiliteit van particuliere klanten en internationale bedrijven, biedt haar medewerkers de mogelijkheid zich te ontwikkelen in een professionele omgeving die voortdurend in ontwikkeling is.
Wij werven individuen, geen profielen.
ONZE WAARDEN

Als geëngageerde groep streven wij ernaar om onze toekomstige werknemers deelgenoot te maken van de sterke waarden die de ethiek van ons bedrijf weerspiegelen:

Kwaliteit, Prestaties, Innovatie, Respect en Solidariteit.

Deze waarden stellen ons in staat duurzame samenwerkingen op te bouwen met onze klanten.

ONS HR BELEID

Ons wervingsbeleid is erop gericht voldoende middelen te creëren voor de ontwikkeling en de ondersteuning van de voortdurende groei van onze onderneming.

Ons opleidingsbeleid biedt onze medewerkers tal van mogelijkheden voor professionele ontwikkeling.

ONS VIE PROGRAMMA
We move people who move the world

ONS DOEL: WERVEN VAN INTERNATIONAAL TALENT
Bedrijven die actief zijn in de steeds competitievere internationale zakenwereld moeten hun HR-strategie dienovereenkomstig aanpassen, van hoe ze rekruteren tot hoe ze hun Human Resources opleiden en ontwikkelen. Bij AGS is onze HR-strategie gebaseerd op fundamentele waarden en ambitieuze programma's om talent aan te trekken en te ontwikkelen.
// Output Side Images ?>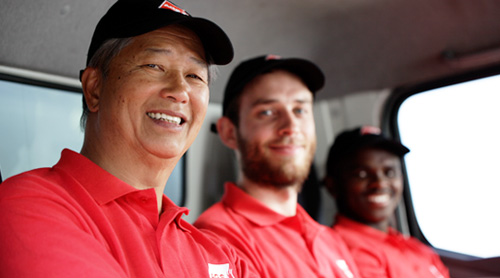 // End Output Side Images ?>
WERKEN BIJ AGS
Wat als wij de wereld voor u zouden openen?
In een wereld die economisch, cultureel en menselijk steeds opener en meer verbonden is, volgt AGS een federatieve aanpak en biedt het zijn huidige en toekomstige medewerkers een unieke professionele ervaring. Van Parijs tot Tokio, via Bamako of Madrid, toetreden tot de wereld van AGS is toetreden tot een onderneming met een rijke en expansieve internationale voetafdruk, samengesteld uit gepassioneerde teams die verenigd zijn rond één gemeenschappelijk doel: onze organisatie doen groeien met een uitstekende dienstverlening aan onze klanten.
Als u uw professionele carrière als een persoonlijke prestatie beschouwt, sluit u dan bij ons aan!